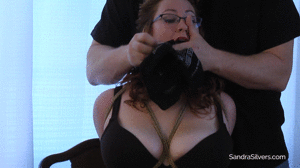 10:28 video
Model Call Hi-jinx! Vintage Vixens Girdle Bound & Gagged On Screen Part 4 – Sandra, Caroline, AJ & Ruth!

Continued from last week!
1959, New York City. The classified ad in the New York Trades called for "Manhattan department store in search of female talent to model women's foundations and undergarments. Call open to all shapes and sizes. No experience necessary. Call Diamond-7-3348 to schedule an interview." Four gals responded to the ad:
Sandra Silvers. A buxom, silver haired housewife with womanly curves
Caroline Pierce. A waitress from downtown a round butt and a mane of long, dark hair
AJ Marion. A slim, struggling actress from the Midwest with huge eyes
Ruth Cassidy. A tall, redhead teacher from North Jersey with curls and massive tits.
The address was a run-down house that looked abandoned, but once inside the front room was clean, yet sparsely furnished. There were a few closed doors, a rack of lingerie and a broad-shouldered man sitting behind a desk.
The address wasn't in town; it was several stops on the train going north out of the city. When each lady arrived, they filled out a form and were then asked to choose an outfit from the rack of girdles and take it into the changing room provided, then come out for test shots. But there was no photographer waiting. Instead, when each gal left the changing room, the man taking application was on her to quickly gag her mouth with a rag and tightly tie her up. She was then hopped into a sitting room and left to struggle. So as to not alert the neighbors, once the girl was deposited in the room, she was completely and thoroughly wrap-gagged (on screen with a close-up), after which the man would go to the changing room to collect her purse (and any cash in it) and clothes. Every hour, when the next gal arrived, she received the same treatment and the cycle started again.
The last to arrive was Ruth, who was placed in the room with the already bound and gagged Sandra, Caroline and AJ…