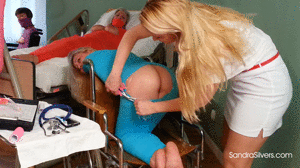 15:00 video
Nurse Lisa Gives Vivienne Aggressive Spanking Therapy as 3 Other Mummified MILFs watch!
Part 5 of 5
Continued from Update 0160
Vivienne is mummified kneeling in a wheelchair. She watched as each of her friends had to endure different, agonizing therapies and shook as she wondered what was in store for her. Nurse pushes her tray over to the nervous blond. She bends Vivienne over and using a pair of safety shears, removes the wrapping encasing Vivienne's beautiful round ass. Not needing any other instruments, Lisa pushes the cart away. This treatment can be administered by hand. Both hands infact. Lisa caresses Viv's exposed behind and then... CRACK! Lisa's palm plans on a butt cheek and the sting makes Viv's eyes water. It's the first of many smacks she'll have to endure, each gaining in intensity and frequency until her entire ass is bright red! You get close-ups of the uncut action to watch the red rise for yourself!
When Lisa is finished, she realizes one of the patients is missing... she thinks, "Now where could she have gotten off to..." The thought is interrupted by a hand being clamped over Lisa's mouth as she's dragged away.