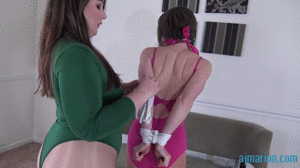 14:06 video
"I've had ENOUGH of you taking the spotlight!" Lizz exclaims as she shoves me onto the couch. "You and Johnny. You and Johnny. I want Johnny! I wanna dance with Johnny!"
She pulls me up to standing and places a pink bandanna between my teeth, knotting it snugly in place as she explains that I won't be attending class today.
"And then I will be the star..." Lizz daydreams, "amazing things...amazing things..."
I'm pushed down onto the sofa once more as Lizz decides which length of rope to use next. I'm jerked to my feet again and spun around. Lizz binds my elbows tightly together as she taunts me and explains why she's doing this. I begin to protest through my gag, and she quickly covers my mouth with her hand.
"Shhhh!" Lizz leans her lips close to my ear. "Did I tell you that you could talk? Because I'm pretty sure that I didn't. Didn't I just tell you to be quiet?"
Lizz throws me back on the couch, grabs more rope, and lifts my legs onto her lap. She wraps rope around my ankles, cinching them down.
"Maybe this will trigger something deep down inside of you, and you'll beg me to tie you up later." Lizz speculates. She expounds further and begins coming on to me. "I can make you feel so much more pleasure than dancing with Johnny. I'm sure."
I glare back at her. A final piece of rope is added above my knees, and I'm left with my "instructions." I wiggle and squirm in my bondage, lifting my legs in the air. I flex and point my feet, but the ropes don't budge. I whimper through my gag with my efforts. I claw at the rope encircling my wrists. I strain and stretch.
Soon, Lizz returns having determined that I'm much too noisy. The bandanna is untied and crammed into my mouth, and silver tape is wound around my head.
"Maybe I don't want Johnny at all. Maybe what I really wanted was AJ..." Lizz grins as she caresses my body.
"Why don't you lay down on that couch." Lizz suggests.
"You're not going to follow directions?" she questions and swats my ass with a crack of the rope. "Lay down. On your stomach."
I grunt and blubber as my wrists are linked to my ankles, pulling me into a hogtie. Lizz walks her fingers up my body, and torments me for a few more moments before leaving me once again to attend dance class.
Keywords: dancer damsel, dasmel in distress, DID, bondage, leotard, tights, stirrup tights, thong, cleave gag, tape gag, mouth stuffing, struggling, rope, barefoot