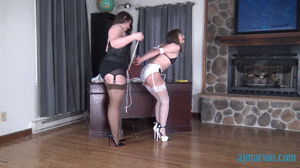 21:42 video
"I've got some rope for you.." Lizz tells me as she unbundles a length of rope.
"I'm excited about that rope for me." I respond.
She ponders what she'd like to do to me and where she will begin. I kick my feet and playfully drag my finger tips up my body. I hop off the desk and twirl in place ending by offering my wrists in front of me. A huge grin fills my face as I am told "Nope. Nope. Nope." and I turn around.
"Be a good girl." Lizz demands.
She cinches down my elbows, and promptly moves on to bind my wrists.
"They are in fact laying against one another quite flatly." I remark regarding my forearms.
"You did it to yourself." Lizz informs me. "Yes, you already had your arms like that. I just applied rope. Abracadabra."
"Look! A self tying AJ!" I exclaim.
Lizz and I continue to exchange quips and discuss my future. I wiggle and meow and eye Lizz mischievously. She decides to add one more piece of rope to my forearms.
Next up, a bright yellow bandana is shoved into my mouth. Lizz crams the cloth into my cheeks.
"You're a chipmunk." she gestures and repeats for me, "I am a chipmunk..."
I squeak back the phrase the best I can through the muffling gag. Finally, electrical tape is wound around my head securing the fabric in place.
"So you just want me to wrap your whole head right?"..."Right..." Lizz teases. I cheep and squeal.
"Wrapping AJ's head, really tight, with thin electrical tape..."
"I mean...that sounds pretty appealing..." Lizz smirks. She attempts to get me to agree.
I maneuver around on the desk as Lizz indicates eventually ending up with my stomach against the hardwood. I arch my back and lift my ass in the air to provide Ms Andrews easier access to my leg. She frog ties each limb hooking the cinch over my high heel. I breath and coo as I endure and settle into my bondage. A final piece is coiled around the balls of my feet and looped through my forearm wrap, securing me in a hogtie. I slide and squirm, exploring my bonds as Lizz looks on.
"Wiggle wiggle." she instructs me, and I do my best to comply and please.
lingerie, stockings, garters, garter belt, high heels, pantyhose, nylons, corset, pumps, girl tying girl, satin panties, bra