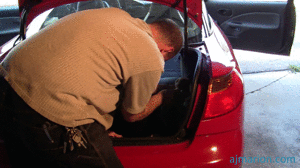 24:37 video
A large black cloth is shoved into my squealing mouth, and blue vetwrap is wound around my head, securing the rag, and muffling my whines. I struggle with Mr Ogre, but there is little I can do with my elbows tightly bound behind me. He lifts me up and settles me into the trunk of a little red car. Pulling my legs out, he binds my ankles, hooking the rope around the heels of my mary janes. Another length of rope is lashed around my upper knees, and my legs are pushed into the vehicle. I fish around for anything I can use as a weapon, and jab at my assailant with a metal bar. Mr Ogre easily relieves me of my improvised weapon, and removes the rest of the items from the trunk. A final piece of rope anchors me in place, and he closes me inside.
"Watch your fingers or they're going to get crushed!" he chides me.
I shriek with terror, and the car pulls away.
Bound in my blue tights in the tiny trunk, I wiggle and squirm in my bonds as the bumpy road bounces me around. I can just reach the knot at my knees, and I finger the fibers until I work them free.
"You little bitch." Mr Ogre declares, frustrated, as he notices.
He pulls over in a vacant parking lot and pops the trunk. Prepared to take advantage of this opportunity, I forcefully kick at him as he lifts the lid. He rebinds my legs, calves to thighs, decreasing my mobility and leverage.
We resume our rough journey, and I roll around in the meager space. I bang my shoes on the walls, knocking, knocking, knocking, but no one can hear me. I wriggle and writhe exhausting myself while attempting to deal with the jostling.
Upon arrival, I am removed from the trunk, and a length of rope is attache to my elbows and looped over a beam, raising my arms up behind me. I kick at Mr Ogre and tug at my restraints. He ties my knees together, and loops a piece around my neck stretching me forward. As a finishing touch, he lifts my shirt and bra, exposing my pert breasts before leaving me to deal with my predicament.