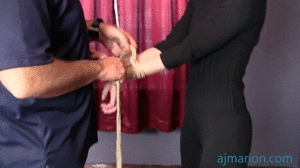 12:17 video
This is a more casual video of Mr Ogre and me from 2012 when I was a baby bondage bunny!
AJ wants to try something strenuous and new. Mr. Ogre has a position in mind and so gets to work on her. She is wearing leggings and super high leopard print and red heels and a long sleeved black sweater. She is swinging from a suspension point in the ceiling when Mr. Ogre approaches, rope in hand.
She kneels down on the hard wooden floor and has her wrists tied together up and over her head. Ogre is nice enough to supply a cushion for her tender knees and then gets to work. He pulls up her ankle and binds it tightly to her thigh, cinching the heel of her shoe against her leg. He takes and wraps up her other leg in the same way, frogtying her on knee point.
He lets her languish this way for a while and then comes back to make it more difficult for her. He pulls her hair back into a hairtie and anchors it into a crotch rope. If she pulls up she tugs harshly on her crotch. This pulls her off balance and she whines and cries about the difficulty of staying balanced. Ogre pulls up her top and pops her bra open while she struggles to find comfort. Mr. Ogre tries to stand her back up on knee point but that is only slightly helpful for AJ. She lowers her down and leaves her kneeling on the floor in that position, miserable and complaining. I guess it never occurred to him to just gag her.