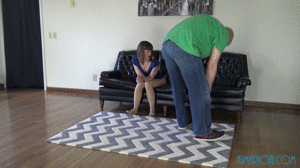 12:36 video
I've auditioned for a guest part with a dance company in North Carolina, and while I performed quite exceptionally, Mr. Andrews informs me that another candidate did just a touch better. I'm obviously disappointed given all the extra work I've put into preparing for the audition. Knowing this, Mr. Andrews informs me that he might have some extra credit I could complete to put me over the top. I practically leap at him accepting the opportunity to clinch the spot. He leaves briefly to retrieve some equipment. I chatter to myself a bit while I wait for his return.
Mr. Andrews returns with a bandana, silver tape, and rope. He stands me up and faces me away from him. Each time I attempt to face him, he repositions me.
"Don't be difficult." he states.
"I'm not being difficult!" I exclaim.
With that, Mr. Andrews unfurls a length of rope and binds my elbows behind me. I continue to question him and move around, and he nonchalantly maneuvers me where he pleases. Lifting my arms, I can do nothing but bend over, sticking out my ass.
"Hm..nice."
I glare over my shoulder with a furrowed brow. Once my arms are secured, Mr. Andrews shoves me to my knees and fills my mouth with a large, blue bandana. I protest and whine, but my words are muffled and mostly unintelligible. The silver tape is then wrapped around my head insuring my inability to push the cloth from my mouth. Finally, Mr. Andrews lifts me into his lap, where he is better able to grope me.
"You know, I think you are going to win after all." he informs me.
I wiggle and strain as he continues to tie my body. I end up hogtied on the carpet and left to struggle and moan on my own.
I writhe and roll around utilizing all of my strength and flexibility to try and loosen my restraints. I claw at my bonds and kick my feet. After some time, Mr. Andrews returns to torment me. Apparently, he's displeased with my amount of movement as he tightens my hogtie rope. His hands run over my body lingering on my ass and legs. He leaves me once more, but not before implying what some of the other extra credit tasks might be…
I pull against the ropes in a final attempt to free myself to no avail. Mr. Andrews returns, picks me up, and carries me away to complete my company audition.