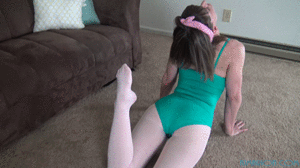 12:12 video
It's a quiet evening, and I've decided to get in a little stretching before calling it a day. Sporting a pair of ballet pink transition tights and a teal leotard, I flow through a variety of positions: downward dog, plank, press, up facing dog. I vary the up dog by flexing my knee and bringing up a pointed toe, first on the right, then the left. Pressing back, I spread my knees wide and reach forward all the way through my fingers. I wiggle my ass left and right warming up my hips and attempting to release some of the tension in my lower back. Flowing into a frog stretch, I make constant tiny adjustments. Moving into and between a few cat-cow stretches, I sit back on my heels, rolling my shoulders. I proceed with a few shoulder stretches. These flow into a neck and body roll sequence. Hopping forward and leaning back, I press into one final shoulder and chest opening stretch. Next up are some forward bends. I reach and hook my hands behind the balls of my feet.
As I lay there, my face in my knees, focused on bending from the hip and reaching through my chest, a man comes in and grabs me, pressing me flat onto the carpet. He pins me down and raises my arms high behind me. Having no trouble holding me in place, he takes his time binding my wrists. Once secured, he torments me, pinching a nipple and grabbing a handful of hair. I whine and protest, struggling with the small amount of movement available to me. Lengths of rope are added to my elbows and ankles. Throughout the process of binding me, my assailant lifts and flips me casually like a sack of sugar, maneuvering me into the positions he desires. I claw at the knot on my wrist restraint. Soon, I am roughly sat up, and the banana I was wearing as a headband is XXXX between my teeth.
The man gropes my breasts briefly before tossing me down by my neck. I try to roll away, but can't get very far. As I lay with my face against the carpet, a foot presses down firmly on my back. I squeal and protest as the man further torments me. A last piece of rope is added, securing me in a hogtie, and I am shoved onto my back. As I gaze up into his cold, green eyes as a foot grinds into my throat. Finally, he leaves me to roll about as I please.
A stroke of luck! My hogtie rope pulls free! But alas! The man returns before I can release the rest of the ropes.