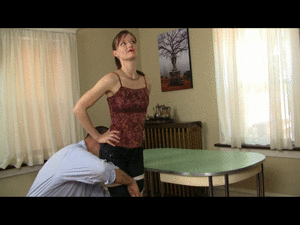 19:54 video
It had been a couple of weeks since AJ and Ogre had gotten to play any bondage games together. They were both relieved to find a beautiful Saturday morning free to be able to enjoy each others company as well as the rope. They agreed that a nice tabletop hogtie would do just the trick, but Ogre of course had another idea. He wanted to see how much rope he could reasonably get attached to AJ. And he certainly did get quite a bit on her!
AJ wears a cute little brocade style tank tee, stretch "denim" leggings and some beautiful Pleaser brand high heeled shoes, red with black lace. Nobody cares what Ogre wears, so let's get to the bondage.
Upper thighs, lower thighs, upper calves, middle calves, ankles, lower wrists, lower elbows, upper elbows, an arm cinch, shoulder harness, hogtie to her hair and a nice, fat ballgag complete the situation. All in all, AJ isn't likely to be going anywhere and this might just make up for lost time.
Pardon the lightstands and whatnot in the background of the clip at one point: since we were doing love bondage, I (Ogre) wanted you to be able to see every last inch that was on display and sometimes that meant facing our lightstands.