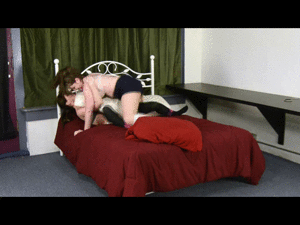 12:04 video
Unbeknownst to Elizabeth Andrews and myself, Mr. Ogre and David Andrews are plotting to raid my Friday night sleepover.
"Man, I have got us the hook up." Mr. Ogre proclaims.
"Oh yeah?" David responds.
Mr. Ogre then proceeds to tell David about this "smokin' girl" and her girlfriends that XXXX over.
"Just hot chics and us...." David muses. "Nice. I like that."
The decision is made to invite themselves over, and they head to my house.
**********************************************************************
Elizabeth and I are having a pillow fight on the bed. I'm wearing my thigh high pink/purple argyle socks, gray shorts, and a gray/pink bra. Lizz is wearing knee high cream socks, nude pantyhose, blue shorts, and a light pink bra.
We smack each other with our pillows, assaulting the other's thighs, butt, and torso. Lizz declares that she is winning. The thwacks continue until I throw my pillow aside, lock my arm around her neck, pull her down on top of me, causing us both to giggle. We interlace our legs, and Lizz tosses me around the bed.
"Now how did we get into this position?" Lizz asks feigning innocence.
"Well, you started the pillow fight, and then I decided I was tired of loosing." I reply matter of factly.
"Oh so you admit..." Lizz taunts, "you're a loser."
We wrestle as she heckles me, until I straddle her. She jibes that she can "buck me off," and I accept her challenge. She wiggles and rocks, trying to toss me off. She bounces her bum on the mattress XXXX me into the air. I lock my thighs around her, squeezing her between my legs. I ride her for a few moments longer until we end in a fit of giggles. Lizz fingers at my belly button ring and begins to tickle me when suddenly two men run in and pin us down!
Mr. Ogre grabs me, pulling my arms behind me, and shoving my body against the bed. David grasps both of Elizabeth's wrists in one hand while throwing the pillow at her head. The two of them make quick work of binding our elbows and wrists tightly behind our backs. Next, Mr. Ogre flips me over to tie my ankles. I writhe and thrust upward with my hips as he straddles me, XXXX my legs together.
"Buck him off baby! Buck him off!" exclaims Elizabeth.
I fruitlessly attempt to toss Mr. Ogre from on top of me. Mr. Ogre pops Elizabeth on the ass. Then, David crams a gag into her mouth, muffling her words. David moves to the head of the bed, sits down, and starts to wind rope around her ankles.
At this point, Mr. Ogre stands up, providing me with the opportunity to turn and kick David in the shoulder. Unfortunately, my freedom is short lived as Mr. Ogre grabs me, flips me over once more, and thrusts me down onto the bed. Dissatisfied with my positioning on the bed, Mr. Ogre easily picks up my bound form and rotates me so that my head is hanging off the foot of the bed.
David finishes hogtying Elizabeth and wanders over to kick me in the shoulder. He pushes at Elizabeth with his foot and jokes about knocking her off the bed. Mr. Ogre completes the hogtie and places a spring-loaded mouth spreader gag in my mouth. I glare at him in response. The two men leave us to struggle and squirm on the bed.
Elizabeth and I strain against the ropes. She rocks her body backward and forward bouncing her breasts on the mattress. Drool is running out of her gagged mouth and soaking into the comforter. I search the rope with my fingers, trying to find a knot to untie or perhaps loosen. I reach towards Elizabeth, hoping I might be able to free her. Alas, I am unsuccessful in my attempt. We continue to to wriggle in our bonds as we hang off the bed, drool running freely out of our mouths and onto the floor.