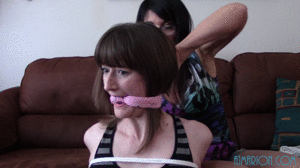 11:59 video
Partially bound in my dance practice gear, GiGi leads me into a living room and XXXX me to kneel on the floor. Apparently, I auditioned for and was awarded a solo in the upcoming competition over her daughter. Needless to say, this pisses her off, and she is prepared to do whatever it takes to assure her daughter dances my role in the competition today. Apparently, I am not the first team member to suffer at GiGi's hands.
"Nobody auditions against her. They all know better. And now, you're learning the lesson." GiGi states as she holds my face in place. "Do you understand?"
"This is how we learn the lesson?" I ask.
"Open your God damn mouth!" GiGi demands as she shoves a pink, knotted bandana into my mouth.
Calling me a big mouthed brat and accusing me of showing my breasts to the coach to win the part, she pinches a nipple roughly. GiGi continues to belittle me as she straddles my legs and quickly binds my knees. I beg her through my cleave gag to let me go. She merely mocks me in response.
"You're lucky I didn't break your fucking leg. That's what I did to the last girl. You got off easy." She reveals as she ties off the ends of her rope.
Moving down my legs, she threatens to snap my toes and break my feet, but instead decides to remind me of the troupe's morality agreement. Any member discovered to be participating in lewd activities is immediately dismissed. GiGi's plan is to make a record of my current predicament and share it not only with the team coach, but also on my social media. She leaves me to ponder my situation and goes to retrieve her camera.
I writhe around, lifting my tights covered legs into the air and wiggling my toes. Soon, GiGi returns with her equipment, taking video and stills. Even notifying me that she can post directly from her camera! Having acquired her blackmail materials, GiGi adds an additional piece of rope to my bonds, pulling my knees up towards my chest, folding me in half. Satisfied with her work, she pushes me over onto my side and leaves me to struggle and moan on the carpet.