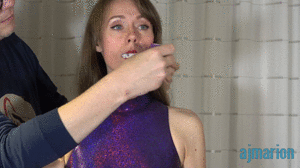 12:52 video
Starring: AJ Marion, Madalynn Raye, & David Andrews
David begins by cramming a large white cloth into my mouth and wrapping vetwrap around my head. I sigh as I settle into the gag. Next, Madalynn receives the same treatment, giving wide eyes.
I slide my arms into the leather armbinder, and wiggle my ass as David tightens the lacing on the snug armbinder. Several shine lines gleam down my cecilia de rafael pantyhose. Once laced and snapped in place, I explore my bonds and rub the leather binder over my body.
Madalynn absently caresses the shiny pantyhose adorning her legs before sliding her arms into a matching armbinder. Once she is also snapped and snug, I join her and we begin wiggling and writhing against one another. We rub the leather binders over our own bodies and each other.
Madalynn gestures for me to bend over and present my butt to her. I comply, while also pulling my bound arms up and to the side, providing complete access to my cheeks. She caresses the leather over my rump and gives me a few playful swats. I kneel down and slide the soft leather in long stokes up and down her legs.
Finally, we find ourselves on the couch with a leather strap buckled around our ankles. We shimmy and squirm and strain. We lay across one another and caress each other's limbs. We rub ourselves against one another, enjoying the sensation of the nylon gliding across us. We shift around to different positions on the couch, presenting our bodies in a variety of ways as we explore how we can touch ourselves and each other.
Keywords: leotard, thong, high heels, pantyhose, tights, vetwrap gag, consensual, leather, straps, armbinders, CDR