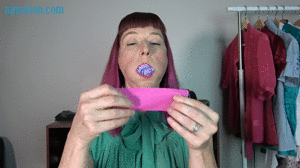 17:04 video
Starring: AJ Marion
I love extended gagwear and adore the headspace it can evoke. This is the next video in the Gagged Gal Friday Storytime series! A series in which your favorite gal Friday reads aloud while wearing a variety of gags!
At one point, I ran a poll on Twitter asking which pair of panties y'all would want me to cram into my mouth. Between light pink and lavender, the lavender won! I take the large, shiny panties and begin stuffing them into my mouth. I push the fabric into each cheek, making them poof out. I then begin ripping strips of bright pink duct tape and pressing them onto my face. Once they are in place, I find my place in the book and read aloud. I continue reading for a while until I eventually stop and close the book.
I slowly peel the tape from my face, and display the lipstick marks inside. I then pull the panties out of my mouth like a magician doing a trick.
Keywords: gagtalk, secretary, submissive, mouth packing