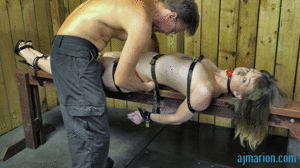 11:37 video
Starring: AJ Marion & Mudlover
A large red ballgag fills my mouth, and I find myself strapped and locked to a narrow board. A pair of tiny red leather shorts clings to my flesh, digging into every crevice. A single strap covers my nipples. I wiggle ever so slightly as I begin to explore my bonds. Dissatisfied with the range of movement still left to my arms, Mudlover chains my wrists to the board, threading the cold, hard metal under my back. I squirm more, and probe the new restraints. The locks and chains just jingle. I moan and coo through my gag as my writhing continues. A crop is rubbed over my exposed skin.
Smack! The crop connects with my inner thigh.
The strap covering my nipples is removed, and the onslaught begins. I whine and sigh as I process the torment. My squeals coming faster and faster.
Keywords: bare legs, high heels, camel toe, submissive, sub, topless, breasts, tits, candid, consensual, bdsm