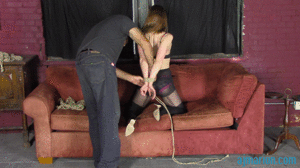 14:27 video
Starring: AJ Marion & Mr Ogre
I dress up in a pink and black bra and panty set and sexy patterned pantyhose in preparation for playtime! I'm lounging on the couch when Mr Ogre asks me, "Do you want to get tied up today?"
"Yes! I! Do!" I reply enthusiastically.
Mr Ogre begins to bind my wrists and elbows behind me. We banter back and forth playfully. He adds a shoulder rope and jacks my elbows up. I reposition myself, and Mr Ogre immediately starts to tie my ankles. It isn't long before I'm moaning and sighing as I settle into the arm bondage. I flip my hair a few times in an effort to get it out of my face. Mr Ogre decides to "help" me with my problem by pulling my hair into a ponytail and tying it up. He cranks my head back, extending my delicate neck. He then pushes me down, folding me in half, and secures a rope in place to keep me compressed. I groan and coo as I endure my predicament.
Keywords: tights, candid, doll, sheer, lingerie, high heels, pumps