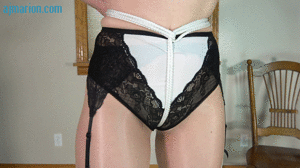 15:07 video
Starring: AJ Marion
Hello Master! I love the task you gave me of finishing your tie. I've put on some of your favorite pieces of lingerie. Satin high-waisted panties, a lacy garter belt, shiny Cecilia de Rafael pantyhose, and white backseam stockings. I unfurl a length of rope, wrap it around my waist, and begin tying an exceptionally tight, crotch rope. I caress the soft fabric and slick rope. I turn around and wave my ass back and forth, contracting my hips, sliding the rope between my legs. I then retrieve another piece of rope and sit down. A rope cuff is tied around each of my ankles.
I sit back in the chair, placing my arms through the wood and linking my hands as if I were bound. I begin describing the different things you could do to finish the tie. I suggest how to bind me and enforce specific shapes as well as ways to torment me further.
Speaking of tormenting me...I thought these nipple clamps might be a nice addition to your tie! They have a cute chain running between them that is fun to swing. I tease down the straps of my bra, exposing my pert, pink nipples. I pinch my nipples between the tongs, gasping as the pressure is applied. I rub my nipples, exciting them further, and gently tug the chain forward. With a flick of a flourish, I produce a large pair of pink panties, and quickly begin cramming them in my mouth. I tuck into my cheeks, pushing all the fabric in, leaving my lips parted by shiny satin. Next, I secure it in place with microfoam tape. I pull the tape out and wind it around my head, smoothing it down.
Nipple clamps added and gag firmly in place, I bind my ankles to the chair legs, keeping my thighs spread wide. I slip my arms through the chair slates, pressing my wrists together as if bound. I squirm around and enjoy your tie, thinking of how you might play with me.
I hope the way I completed your task pleased you!