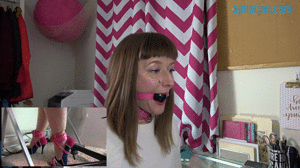 22:11 video
It's important for a good gal Friday to be both acquiring new skills as well as honing and maintaining the ones they have. It's time for my typying practice! I don my pink leather cuffs and collar. I'm wearing my ankle cuffs with the heel strap, ensuring that I don't kick my heels off under my desk. I fill my mouth with a black ballgag, and strap it tightly in place. Then, I commence my typing. Click clack clickety clack. The keyboard strokes resound loudly, while the deeper clank of metal D rings hitting the desk intermittently interrupts.
After 10 or so minutes, I ask, "How much longer do I have to wear this?"
The sides of the straps continue to cut into the corners of my mouth, and my jaw begins to ache. As the discomfort gradually builds, I notice my speed and accuracy decreasing and redouble my efforts to focus on my typing. Drool occasionally dribbles down my chin, dripping in long strings. Eventually, I bring the practice session to a close. I gently pull the gag from my mouth, cooing with relief.
Keywords: galfriday, secretary, high heels, pantyhose, leather cuffs, ankle cuffs, wrist cuffs, pet, doll, gag, ballgag, drool, drooling, candid, consensual, fetish, submissive