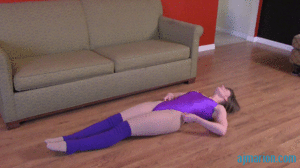 22:25 video
I'm flowing through a series of standing stretches in my purple thong leotard and legwarmers. Eventually, I transition to the floor and continue. Butterfly, side straddle, and then some dynamic core exercises. Suddenly, there is a knock on the door.
"That's weird." I state as I stand.
I open the door to receive my visitor just as a man comes barreling into me. He wrestles me around, my legs flailing into the air. I grab and claw at him, but eventually his large hands encircle my delicate neck. With a burst of strength, I am lifted into the air and thrown roughly onto the couch. He swivels me around, wrapping an arm around my neck, and chokes me unconscious.
I awake draped on a glass table. My wrists are bound behind me, and my ankles are tied off to the table legs. I strain against the ropes. Pressing my torso against the cold glass, lifting my feet off the floor as I struggle. My ass is on quite the display as I wiggle and squirm. I grunt loudly with my efforts. A door slams, and the man who attacked me enters and tosses something on the table.
"What's that for?" I ask.
The man grabs a handful of my hair and pulls my head up as he takes a photo on his cell phone. He picks up the gag and tries to push the ball into my mouth. I press my lips tightly together, refusing him. The air rings with a resounding smack and I yelp in response when he slaps my exposed butt cheek. My mouth wide and available, he seizes the moment to shove the ball between my teeth, and buckles it in place. I whine and squeal as he fondles my chest and pushes me onto the tabletop. A thigh presses firmly against my ass, pinning my pelvis in place. Then, a length of rope is attached to my wrists, and my arms are pulled perpendicular to the table.
My hands now secured out of the way and my legs tied open, I find myself rather exposed and vulnerable. The boorish brute capitalizes on my predicament and administers several swats. He releases the knot of the strappado rope, but maintains control of it. Toying with me further, giving slack to my arms only to wrench them up again. I wiggle and writhe, groaning through my gag. Next he climbs under the table and snaps a few photos through the glass. A couple of scoots and he slides between my legs. From this position, he easily reaches up and begins slapping my butt cheeks. Soon, he stands, and I am given a small reprieve.
This is only to set up his next amusement however. A phone is placed beneath my face and set to record. Then, the assault on my ass continues. Fast. Slow. Hard. Stingy. My torment goes on and on. Until suddenly, the man unbuckles my gag. I spit the ball out as the spanking commences once again. My yelps are now unmuffled and coming with every stroke. Eventually, he unties me and slings me over a shoulder, carrying me kicking to the bedroom...