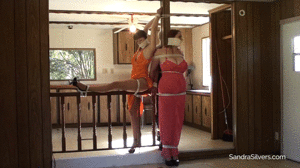 12:26 video
A Bevy of Bound MILF Broads in Ballgowns Held Hostage in Abandoned Trailer!
The three seductive dames were intent on ringing in the new year in style. It was a night out at a downtown club full of dancing and libations and then more dancing and even more libations. The bartender had been watching the three all night. A curvy, buxom , silver-haired seductress, a huge-titted amazon redhead and a long brunette gymnast. His mind ran wild about the fun he could have with any of them...or maybe all three. As the last seconds counted down until the clock struck twelve, he provided the tumultuous threesome champagne, on the house. None of them were in a state to notice the slightly "off" taste...
It's morning on January first. the sun is peeking through the dingy windows of the old mobile home. Bare light bulbs dangle from the aluminum ceiling. Around the pole and railing separating the paneled living room from the step-up ramshackle kitchen are our three sexy revelers, completely tied up and wrap gagged. They furiously fight to try to free themselves before whoever did this to them returns!