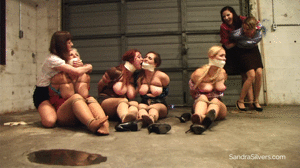 11:45 video
Part 5 of 8 of an 8-MILF, Movie-Length, Mini-Series Event!
This Episode: MILF Salesgirl Jackie Christianson Becomes Bound & Gagged Victim #5 - All On-Screen!
Last Episode: Blond Saleslady Lisa Harlotte Becomes Bound & Gagged Captive #4 - All On-Screen!
Prologue: Jackie is generally oblivious. She never notices when her customers flirt with her. She certainly didn't notice that when she got back to the office, it was almost completely empty. Vivienne was in her office on the phone yelling at someone in a language Jackie didn't understand, so Jackie gave her a wide berth. Jackie never noticed none of the other ladies she works with was around. Jackie had just plopped down in her own office when her phone rang. It was an internal call. "Hey, Jackie," Caroline's sweet voice could be heard on the line, "can you come down to the warehouse? AJ and I think that the delivery guys messed up your last shipment." Jackie hopped up from her chair and headed to the warehouse...

All on Screen - Caroline and AJ both lead the cleave gagged Jackie towards the loading dock. Once Jackie sees her four sexy, topless and completely bound & gagged associates, she begins to furiously fight back. But she is outnumbered two to one. Quickly, AJ and Caroline have Jackie's hand tied behind her back, and at that point, it's just a matter of time. But for the pair of captrixes, as the pile of sexy, struggling business women gets bigger, corralling them gets more complicated. AJ and Caroline have to take turns tying Jackie's ankles, knees, chest, arms and crotch-rope because they have to keep dragging ladies back to the group as they wriggle away. Finally the girls are all dragged back together, and Jackie is added to their ranks. Jackie's relatively comfortable bandanna gag is stuffed deep into her mouth and sealed in with a roll of microfoam tape. We stay behind and keep the quivering quintet company and AJ and Caroline go to retrieve the last gal left in the office...