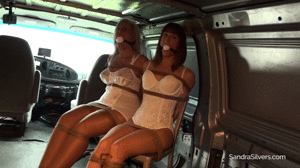 11:26 video
Nabbed, Ballgagged Brides Stripped to Lingerie & Girdles, Get A Surprise Bound & Gagged Van Ride!
It was a girl's day out. Shopping downtown in the morning, a champaign lunch and then an afternoon of wedding gown shopping. There were no nuptials in either of their immediate futures,it was just a fun way to spend a and afternoon feeling pretty. You would have thought after the fourth dress the saleswoman would start getting annoyed, but it was a windfall for her. Not because she thought she was going to be able to sell these two broads anything, but because she had a buyer looking for a two MILFs to add to his harem. Specifically, a one buxom and curvy and the other slim and athletic. The longer the gals took trying on matrimonial attire, the longer her brute had to come pick the pretty parcels up. He waited until each was in her own dressing room, alone. The elegant and intricate taffeta trappings took a while to get into and out of and that gave him plenty of time to spirit each away without alerting the other.
We join the damsels as the hulking brute slams the van's sliding door shut. Both babes are bound and ballgagged, tied tightly to metal chairs. They only have on their lacy foundations and shiny, silky pantyhose.The engine roars to life and we witness them struggle not only with their ropes, but with the forces of nature pulling and pushing them around as they make their way down the streets, onto the highway and onto their new life...