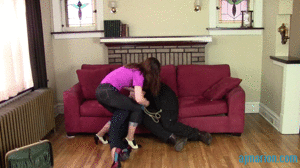 10:29 video
The neighbor's across the street stop by to discuss the neighborhood watch with Madalynn Raye. As she invites them in, Mr Ogre grabs her from behind and quickly covers her mouth with his huge hand, muffling her cries. I enter with a suitcase full of rope, and use a length to bind her wrists. She strains against us as we shove her into the sofa. I maneuver her around and down to the floor, and Mr Ogre crams a ballgag deep in her mouth.
"Why don't you turn her around? Show her ass off." Mr Ogre suggests as he retrieves another bundle of rope.
"Stand up." I command as I pull her up by her arms.
I bend her over, putting her head on the couch, ass in the air on display. Since she's conveniently folded in half, we wrap the rope around her enforcing the bend. I lift her legs, curling her into a ball. We continue to lower her leverage by lashing her further.
"I think you ought to drop her." Mr Ogre casually comments.
"I'm not quite as mean as you." I smack back through my gum.
Mr Ogre finishes balling Madalynn up as I hold her down. We move her to the floor, and Mr Ogre adds a piece of rope to her elbows. I loom above her as I sit on the sofa. I slide her stilettos of her pantyhose feet and admire them, wondering their size. Her feet exposed, dig my fingers into her soles, tickling her. Once she's trussed up, Mr Ogre and I leave her to struggle in her restraints while we prep the transportation vehicle.
Madalynn rolls around on the hardwood, kicking her feet. She whimpers and moans through her gag as she bucks against her bonds.
Eventually, Mr Ogre returns, lifts her by her arms, and walks out with her as she wails.